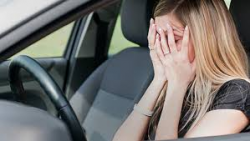 — Used car dealers have one of the worst reputations of any industry, and lately that has been for good reason.
Used car dealers have such a bad rap they removed the word "used" from their marketing technique. Instead of selling a used car they now sell "pre-owned" cars. A nicer phrase that can still mean, "this car has been driven to hell and back and now the owner doesn't want the pile of junk."
And then there are those radio and TV advertisements where the "fast talker" comes in at the end to mumble all the legal gibberish to keep state and federal regulators happy. It's like they are telling us what they legally need to, but they don't want us to really understand it because then we wouldn't buy a car.
State Lawsuits Against Car Dealers
Over the past 6 weeks, used car dealers have still found their way into the target sight of authorities in a way that no fast talker can fix. CarComplaints.com tracked down just a small example of the potential problems you could face with some (not all) new and used car dealers.
Once you see a small example of government actions against dealers in just the past six weeks, it should make you a better critical thinker when buying a vehicle.
(Please note that a lawsuit against a dealer doesn't mean the dealer has been found guilty)
Maine
Attorney General Janet T. Mills filed a lawsuit against Bangor Car Care, Inc., Bumper2Bumper, Inc. and My Maine Ride, all owned by Glenn A. Geiser, Jr. The lawsuit alleges the dealerships target consumers with poor credit who need financing because they desperately need a car. Sales reps pressure them to buy cars that aren't worth driving, then ignore customer complaints.
The lawsuit says consumers are told they can't test-drive cars because the vehicles haven't passed inspection yet. Further, customers aren't told about problems with the vehicle.
When they decide to buy, the financing paperwork is completed but the vehicles can't be driven yet. The customers are told to come back later once the vehicle has passed inspection. However, the lawsuit says many consumers are unable to get their cars when promised even though payments are already being made.
Once they have the car, many people find it should have never passed inspection because the vehicle starts to have serious problems right from the start. Complaining doesn't help because the complaints are ignored.
The lawsuit says every customer is told most vehicles come with an extended warranty to cover major repairs, when in fact the warranty is for two-weeks and only covers State inspection-related items. The more extensive warranty is included as a service contract at a huge cost, without the buyer knowing.
Ohio
Ohio Attorney General Mike DeWine has filed a lawsuit against Monroe Dodge-Chrysler, Inc. (Monroe Dodge Chrysler Jeep Superstore) of Monroe, Michigan. The lawsuit accuses the dealership of using deceptive advertisements to consumers in Michigan and Ohio. It's not the first time the Ohio Attorney General went toe-to-toe with the dealership. The AG entered into past agreements with the dealership for the same issues but the violations continued.
According to the lawsuit, the dealership violated the law by advertising prices for which not all consumers qualified, failed to disclose all required terms, and failed to clearly disclose important exclusions or conditions of a sale.
Federal Lawsuits Against Car Dealers
The Federal Trade Commission (FTC) has been busy (as usual) with deceptive advertising practices by car dealers, including one where the dealer required a $5000 down payment but hid that fact in the small print.
According to the complaints, the dealers made a variety of false claims in print, Internet, and video advertisements, including one dealer who misrepresented that consumers had won prizes they could collect at the dealership. (Hint: There were no prizes)
California / Illinois
Casino Auto Sales of La Puente, Calif., and Rainbow Auto Sales, of South Gate, Calif., allegedly advertised that consumers could purchase vehicles at specific low prices even though the price was $5000 higher. Both dealers' ads involved a mix of English and Spanish.
Honda of Hollywood, Los Angeles, Norm Reeves Honda of Cerritos, Calif., and Infiniti of Clarendon Hills of Clarendon Hills, Illinois., allegedly advertised that consumers could pay no money up-front to lease a vehicle when, in fact, the advertised amounts excluded substantial fees and other amounts. The ads also allegedly failed to disclose certain lease related terms.
Georgia / North Carolina
Nissan of South Atlanta of Morrow, Ga., and Paramount Kia of Hickory, N.C., allegedly deceived consumers by advertising they could finance a vehicle with low monthly payments when, in fact, the payments were temporary "teasers" after which consumers would owe a different amount. The ads also allegedly failed to disclose certain credit terms.
Michigan
Fowlerville Ford of Fowlerville, Mich., allegedly violated the law by sending mailers that deceptively claimed consumers had won a sweepstakes prize, when they had not. Some of their ads also allegedly failed to disclose certain credit terms.
Texas
Southwest Kia companies, including New World Auto Imports, Dallas, Texas, New World Auto Imports of Rockwall, Rockwall, Texas, and Hampton Two Auto Corporations, Mesquite, Texas, allegedly advertised that consumers could purchase a vehicle for specific low monthly payments when, in fact, consumers would owe a final balloon payment of over $10,000.
The companies also allegedly deceptively advertised that consumers could drive home a vehicle for specific low up-front amounts and low monthly payments when, in fact, the deal was a lease and they would owe substantially more up-front.
Beware of Car Dealer Ads!
The Federal Trade Commission has a few tips to help you avoid falling for false and deceptive ads from car dealers.
"Vehicles are available at a specific low price or for a specific discount"
What may be missing: The low price is after a downpayment, often thousands of dollars, plus other fees, like taxes, licensing and document fees, on approved credit. Other pitches: The discount is only for a pricey, fully-loaded model; or the reduced price or discount offered might depend on qualifications like the buyer being a recent college graduate or having an account at a particular bank.
"Only $99/Month"
What may be missing: The advertised payments are temporary "teaser" payments. Payments for the rest of the loan term are much higher. A variation on this pitch: You will owe a balloon payment — usually thousands of dollars — at the end of the term.
"Zero or Low Rate Loans"
What may be missing: The low advertised annual percentage rate (APR) may apply only to loans up to a certain amount — which may be a lot less than the purchase price. You will pay a higher APR for loans financing higher amounts. A variation on this pitch: rates may not be stated as "APR," meaning the advertised rate may not reflect the true "annual" cost of financing, and may exclude certain costs required to be included in the APR.
"$0 Due at Lease Signing"
What may be missing: The fine print indicates that additional fees — sometimes several thousand dollars — are due at lease signing.
"You've won!"
What may be missing: The prize. This is just a tactic to get you into the showroom. Doh!