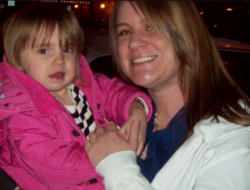 — The parents of 29-year-old Brooke Melton have first-hand knowledge about the consequences of GM's failure to recall millions of cars with a known safety defect. Melton, of Hiram, Georgia, was killed in 2010 when her 2005 Chevy Cobalt crashed on a rainy night after it went out of control and was hit by another vehicle.
Melton had complained about the car shutting down and losing all steering and braking control four days before the accident. In the first incident, she was able to pull the Cobalt safely off the road and restart it, but the next morning the car was taken to the dealership.
Brooke was killed on her birthday, March 10, 2010, one day after she got her car back from the dealer.
An examination of the "black box" showed the key had slipped from the "on" to the "accessory" position three seconds before the accident. Not only did the car lose its power steering and anti-lock brakes, but the air bags didn't deploy with the key turned out of the on or "run" position.
The ignition switch in her car is the same ignition switch linked to numerous deaths and accidents, along with over 60 class-action lawsuits against General Motors.
The Melton family sued GM and settled the case for an undisclosed sum. However, based on congressional testimony and public admissions by GM, the family has now re-filed their claims against GM alleging the automaker fraudulently concealed critical evidence in the case.
The original settlement was partly based on testimony of Ray DeGiorgio, the lead design engineer for Cobalt ignition switches. According to the re-filed lawsuit, DeGiorgio originally testified he did not authorize or know of any changes to the design of the ignition switches. GM backed him up on those statements.
However, Brooke's parents say recent disclosures to the National Highway Traffic Safety Administration and to Congress prove GM lied in court.
"The Meltons would not have settled their case if they had known of the perjury and concealment of critical evidence," said Lance Cooper, of the Cooper firm in Marietta, Ga. "It is now apparent that GM's plan was to resolve the Meltons' claims before disclosing the Cobalt ignition switch design changes."
GM denies the charge and said the company didn't engage in any improper behavior in the case.
"The response by GM and its lawyers validates our decision. We are hopeful that this new lawsuit will uncover who at GM knew about the design change and why Brooke was never told." - The Melton family