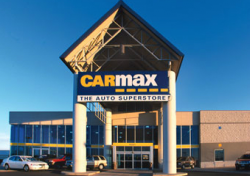 — What do you get when you buy a used car that has passed a "50-point inspection" before the sale? What about a 125+ point inspection? According to eleven consumer and safety organizations, those inspections should mean the cars have been repaired if they've been recalled for safety defects.
However, in a petition filed with the Federal Trade Commission, the Center for Auto Safety, Consumers Union and nine other organizations accused CarMax of selling defective used cars.
Known as the largest retailer of used cars, CarMax advertises its 125+ point inspection that makes every vehicle a "CarMax Quality Certified" used car. But according to the petition, CarMax fails to make sure safety recalls are performed before selling used cars to consumers.
Federal law requires car dealers to fix any new car under a safety recall before the car can be sold. However, there is no similar law about used cars.
CarMax argues the current recall system does not give used car dealers, including CarMax, the authority to perform recall repairs. The company claims the system is "broken" because manufacturers do not grant independent auto dealers like CarMax access to internal databases in order to search a manufacturer's website. Instead, CarMax tells buyers to register their cars after purchase and get any recalled cars repaired.
The petition admits CarMax can't make the repairs but responds by saying CarMax can take any recalled car to an authorized dealer to make free repairs before selling the car. As for not having access to internal auto databases, the petition says the National Highway Traffic Safety Administration gives car dealers the ability to check the safety status of any used car.
Additionally, CarMax's claim of not having the ability to search for recalled cars will come to an end on August 20, 2014. That is the date all automakers that manufacturer over 25,000 vehicles a year are mandated to provide recall data on their websites. The new rule will assure the recall data is free and available to the public, searchable by VIN and updated at least every seven days.
The recall data will also be searchable on the government's safercar.gov website.