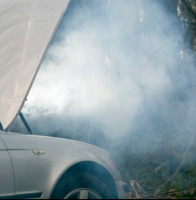 — After years of Chevy Cruze owners complaining about antifreeze leaks along with an overwhelming smell in the cars, a class-action lawsuit has been filed against General Motors in New York federal court.
Plaintiff Sheilah Feliciano says she bought a 2011 Chevy Cruze in early 2013 and within the first month saw leaking antifreeze. On top of that, Feliciano smelled a strong smell of antifreeze in her car.
The lawsuit says she repeatedly took her Cruze to a dealership for repairs and while various repairs were made, nothing was done about the leaking antifreeze or the smell.
Feliciano claims in the lawsuit that General Motors has tried to hide a defect with the radiator that allows antifreeze to leak. Further, the lawsuit says GM has issued two technical service bulletins to dealers in the past informing dealers of the problems, but GM failed to inform the buying public.
Owners of the Chevy Cruze told CarComplaints.com about the same leaking antifreeze problems, especially with the 2011 Cruze.
"Coolant smell in cabin and outside vehicle. Service manager acknowledged and car taken in to shop, no leak found. Took it in a second time and a dye test was done, no leak showing. They replaced the coolant reservoir cap and hoped it had gone away.... no!" - Collingwood, Ontario
"I am having the worst trouble with my 2011 Cruze, I love the car but I cannot breathe when I drive it because the smell of burnt antifreeze is so bad. It gives me instant headaches and I am constantly taking pain medicine. I have had it to the dealer 5 times now, replaced heater core, then an update, then they said nothing was wrong, then they pumped stinky deodorizer in the car, then I took it back again, they said they cleaned a leaky coolant bottle and cleaned the interior. IT STILL STINKS!" - Harrisburg, Pennsylvania
"Had the car to two different dealers 5 times,they said they can't find anything.Then why did they give me a copy of a GM bulletin that said engineering was working on it. Sounds like they will find the solution when the warranty runs out." - Ishpeming, Michigan
The lawsuit claims the affected cars include the 2011 and later Chevy Cruze models, and although GM touts the Cruze as one of the most safety-tested in history, GM must have skipped the testing manual on coolant systems.
The lawsuit says Feliciano was offered less than $5,000 to trade in her car, an insult considering that's $10,000 less than what she originally paid. Additionally, the complaint says people would never have purchased the Cruze if they would have known about the alleged antifreeze defect.
The Chevy Cruze antifreeze lawsuit was filed in U.S. District Court for the Southern District of New York - Sheilah Feliciano v. General Motors Company. The plaintiff is represented by the Law Offices of Paul C. Whalen.
Read owner-reported complaints about the Chevy Cruze: