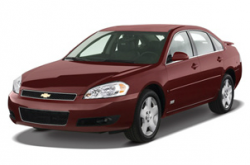 — The National Highway Traffic Safety Administration (NHTSA) has granted a petition that asked the government to evaluate alleged air bag problems in General Motors vehicles. Mr. Donald Friedman filed the petition on November 14, 2003, claiming model year 2004-2010 GM vehicles have defective passenger air bags that can fail to deploy in a crash.
The petition says the "occupant classification system" has a defect that causes the weight-based software algorithm to block the air bag from deploying seconds before a frontal impact.
As his example, Friedman used a 2008 Chevy Impala that was involved in a Texas crash that injured two occupants. The petition says both occupants were the same weight and both were wearing seat belts, yet only the driver's side air bag deployed.
Friedman claims the same occupant classification system is used in other GM models from 2004-2010 and therefore are also defective.
NHTSA researched the Impala crash including the crash photos, accident report, medical records, air bag data and occupant classification system data records. Safety regulators also looked at federal fatality data, research from the Insurance Institute for Highway Safety and early warning reporting data on death and injury for Impala cars.
After an eight-month investigation, NHTSA couldn't find any problems with the occupant classification system in the 2004-2015 Chevy Impala. However, the government says it will open "an evaluation of a limited scope of GM models" out of an "abundance of caution" and request additional information from GM.
NHTSA isn't calling it an official investigation and is most likely going overboard because the grilling it has taken because of the GM ignition switch fiasco.