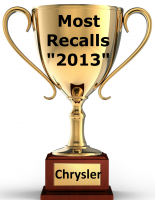 — Who doesn't like driving across the finish line waving the checkered flag for first place? Chrysler probably doesn't, especially when the trophy goes to the automaker which had the most recalls in 2013.
That's not to say being listed first when you'd rather be last is necessarily a bad thing. The National Highway Traffic Safety Administration (NHTSA) correctly says many factors could affect why one automaker has more recalls than another. Maybe one manufacturer is just more picky than others and is quick to pull the trigger about ordering a recall.
In the words of NHTSA:
"There are a host of reasons why a manufacturer could have more or fewer recalls in a given year or over time – including, but not limited to, the introduction of new technology, its barometer for measuring risk, which could be more conservative or liberal as contrasted to other manufacturers or the industry as a whole, or other variables."
Factors to Consider When Evaluating Recall Numbers
NHTSA also correctly points out the largest manufacturers tend to top the list each year. That is true for 2013 as Toyota once again recalled more vehicles in the U.S. than any other manufacturer, just as they did in 2012.
However, forgetting about the number of vehicles and instead counting the number of actual separate recalls, Chrysler had twice as many recalls in 2013 as Toyota.
Another thing to keep in mind is market share. For 2013, General Motors had the second highest number of separate recalls, but the number of vehicles came in at 757,677. That's not bad at all considering how many GM vehicles are on American roads.
Additionally, some manufacturers simply sell less vehicles because of price (Porsche) and are less likely to recall a great number of vehicles.
Most Recalls of 2013
Based on data from the National Highway Traffic Safety Administration, here, in order, are the automakers that had the most recalls in 2013.
| Manufacturer | Number of Recalls | Number of Vehicles Recalled |
| --- | --- | --- |
| Chrysler | 36 | 4,666,233 |
| General Motors | 23 | 757,677 |
| Nissan | 17 | 958,148 |
| Ford | 16 | 1,188,133 |
| Toyota | 15 | 5,292,619 |
| Honda | 15 | 2,774,809 |
| BMW | 14 | 934,047 |
| Hyundai-Kia | 9 | 2,228,185 |
| Subaru | 7 | 337,569 |
| Mitsubishi | 6 | 23,625 |
| Suzuki | 4 | 405,605 |
| Volkswagen | 4 | 70,706 |
| Mercedes-Benz | 4 | 747 |
| Kia | 3 | 1,069,589 |
| Volvo | 3 | 38,703 |
| Jaguar Land Rover | 3 | 6,841 |
| Porsche | 3 | 2,551 |
| Mazda | 2 | 161,549 |