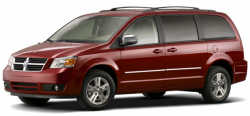 — Following a federal "recall query" into ignition switch problems in 700,000 Chrysler vehicles, the automaker is recalling 696,000 model year 2009-2010 Dodge Journeys and 2008-2010 Dodge Grand Caravan and Chrysler Town and Country vehicles.
An estimated 525,206 vehicles are located in the U.S.; 102,892 are in Canada; 25,591 are in Mexico and 42,268 are outside those areas.
The National Highway Traffic Safety Administration opened the query two weeks ago after reports that a previous recall of 196,000 vehicles might not have worked.
In the previous recall, Chrysler said the problem occurred when a vehicle was initially started and the ignition key was released from the "start" position. A spring is used to bring the key back to the "run" position, but Chrysler found the switch could move too far and leave the ignition key stuck between the "run" and "accessory" positions.
According to documents filed with NHTSA, Chrysler is aware of 32 customer complaints, 465 warranty claims, and two alleged rear-end collisions traced to the defect.
As with the millions of recalled General Motors vehicles because of defective ignition switches, Chrysler says a simple bump in the road can cause the ignition to move out of the "run" position. Once moved to the "accessory" position, the engine will shut off and cause vital systems to fail, including the air bags.
Chrysler is warning owners to remove all items from their key rings, leaving only the ignition key. If the key has a FOB, get rid of the FOB, at least until the repairs are made.
Chrysler dealers will modify the ignition switch, what the automaker describes as installing a "more robust WIN module detent ring." However, a recall schedule hasn't been announced by Chrysler or NHTSA, so affected owners should watch their mail.
With questions or concerns, contact Chrysler at 800-853-1403 and reference recall number L25.
Chrysler is facing more possible recalls because of faulty ignition switches as NHTSA continues to investigate 525,000 model year 2006-2007 Jeep Commander and 2005-2006 Jeep Grand Cherokee vehicles. Owners complain that any contact with the ignition key or FOB can cause the ignition switch to move to the "off" or "accessory" position.