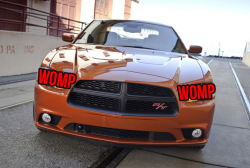 — Chrysler had problems in 2011 with headlights going wacky on Dodge Charger police cruisers that caused Chrysler to recall almost 10,000 of those cars in 2012.
Chrysler now has announced over 43,000 non-police cars will be recalled for the same problem. The affected cars are model year 2011-2012 Dodge Charger cars equipped with halogen headlights. Chrysler says a wiring harness can overheat and cause the low-beam portion of the lights to fail.
Chrysler first learned of the problem in 2011 when Dodge Charger police cars started experiencing low-beam headlights failures. Chrysler recalled the police cars in early 2012 but not the non-police vehicles.
Chrysler kept receiving complaints and reports about headlight failures in non-police Dodge Chargers and opened an investigation in November, 2013.
Chrysler didn't say why they didn't originally recall the non-police cars in 2012 even though they knew those cars used the same type of harness and bulbs.
Today's recall involves cars manufactured May 20, 2010, through November 8, 2011, and Chrysler says they have no reports of accidents or injuries related to the failing headlights.
The Dodge Charger recall is expected to begin in April, 2014. Chrysler dealers will replace the headlamp jumper harnesses and bulbs, or possibly the entire headlight assemblies.
Affected Dodge Charger owners can contract Chrysler at 800-853-1403 and give them recall number P08.