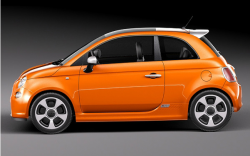 — Chrysler is recalling over 4,100 minicars after five incidents of the cars losing power because of a short-circuit. The 2013-14 Fiat 500e electric cars have something called a power inverter module that alters electrical current related to the power needed to move the car.
Chrysler engineers found the module has a defect that could cause coolant to leak onto electrical components and cause a short-circuit. A short-circuit isn't a good thing in any car, but it's especially a problem in an electric car because it can kill the car.
Five incidents of power loss were discovered during a routine review of warranty data, although no accidents or injuries have been reported.
Chrysler dealers will replace the power inverter module on the recalled Fiat 500e cars, but the National Highway Traffic Safety Administration hasn't released word when the recall will start. Chrysler says all model year 2013-14 Fiat 500e owners will soon receive a letter in the mail.
With questions or comments, contact Fiat at 888-242-6342.
The Fiat 500 has made other news in the recent past, none of it good news.
In August, 2013, Chrysler recalled the 2013 Fiat 500e because the cars could lose the ability to move forward.
In March of this year, Chrysler recalled 19,500 model year 2014 Fiat 500L cars because of transmission problems.
And earlier this year, the Fiat 500 was one of 10 minicars that flunked a frontal crash test performed by the Insurance Institute for Highway Safety.