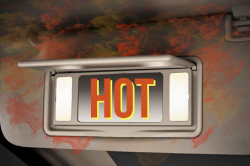 — Is vanity a good thing? Not if you own a 2011-2014 Dodge Durango or Jeep Grand Cherokee built January 5, 2010, through December 11, 2013. Chrysler is recalling over 895,000 of those SUVs because the sun visor could catch on fire from damaged wiring in the vanity light.
The recall follows a 2013 federal investigation after complaints about headliners and sun visors catching on fire in the Durango and Jeep Grand Cherokee. That investigation was expanded in 2014. Owners said they panicked and rolled the windows down which only fanned the flames.
Chrysler found a common connection with the sun visor fire reports when evidence showed those SUVs had been previously repaired. The automaker found any repair work performed around the headliner/sun visor area could cause the reinstalled screws to damage the vanity light wiring.
The Durango and Grand Cherokee recall should begin in August, 2014. Chrysler dealers will install a new sun visor, so until then keep your fire extinguisher handy.
Owners can contact Chrysler customer service at 800-853-1403 and give them recall number P36.
Click on a year to read complaints about that specific model year Durango or Grand Cherokee: