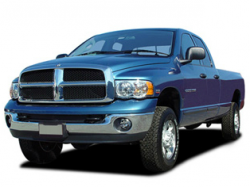 — A Colorado man has sued Chrysler claiming a transmission defect caused the death of his wife. Gil Sanders, of Arvada, Colo., claims his wife, Kari Sanders, was killed by their 2003 Dodge Ram 2500 after it experienced a "park-to-reverse" event.
The lawsuit alleges that on March 13, 2013, Kari Sanders entered her garage to start the 2003 Dodge Ram 2500, then got out and left the door open. She walked to the rear of the truck and was found hours later pinned against the edge of the garage and the still-running truck door. The coroner said she died of suffocation.
A park-to-reverse event (false park) describes what happens when a driver believes they have shifted the automatic gear shifter into park. If a defect exists, the transmission could be somewhere between park and reverse and could slip into reverse even though a driver believes it's in park. The vehicle could then roll backward under power.
In August 26, 2004, the National Highway Traffic Safety Administration (NHTSA) opened an investigation after complaints about park-to-reverse problems in the 2003-2004 Dodge Ram, Ram 2500, Ram 3500, and Ram Quad Cab trucks.
Complaints to NHTSA indicated a possible problem when the truck was driven forward and brought to a stop on a level surface. The driver shifted the lever into park and opened the driver-side door without verifying the truck was in park, securing the parking brake, or turning the engine off.
Once out of the truck, it would take 10 to 30 seconds for the truck to start rolling backward under engine power. NHTSA received reports of serious injuries and two fatalities allegedly caused by the problem.
Safety regulators used test vehicles and trucks that were involved in incidents but found no evidence the transmission could move out of park unintentionally, at least when the operator verified the truck really was in park.
However, NHTSA found the shift lever could be inadvertently placed and remain within an intermediate position between the park and reverse gear positions. The placement could cause a delayed pressurization of the reverse hydraulic circuit and cause the truck to roll backward after a short delay. That delay was enough to allow someone to exit the truck before it started moving.
In 2006, Chrysler recalled about 250,000 model year 2003-2005 trucks to install "out-of-park" alarms to warn people if the gear lever was not correctly in park. At the time, NHTSA said, "This action is deemed a safety improvement campaign and is not being conducted under the safety act."
However, according to the lawsuit, Chrysler only recalled diesel and V-10 engine-equipped versions of the trucks. The complaint charges that Chrysler ignored thousands of vehicles with the same defect, including the 2003 Dodge Ram pickup truck with a V-8 engine that killed Mrs. Sanders.
Plaintiff Gil Sanders is represented by Lieff Cabraser Heimann & Bernstein, LLP, and Bradly Holmes, P.C.