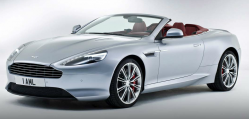 — Paying over $180,000 for a car should mean the parts and materials are of the highest quality, and preferably not fake. Forget about that in this case as automaker Aston Martin recalls 5,000 cars because a Chinese supplier used counterfeit materials.
The National Highway Traffic Safety Administration says the models include the 2008-2014 DB9 and V8 Vantage, 2009-2012 DBS, 2010-2012 Rapide, 2014 Rapide S, 2011-2012 V12 Vantage, 2011-2014 V8 Vantage S and 2012 Virage.
The Chinese company, Synthetic Plastic Raw Material, used counterfeit materials in the accelerator pedal arm that weakened the arm, causing it to break. No working gas pedal means no acceleration.
Aston Martin had already recalled the cars about seven months ago and it was during that recall that a dealer found the problem while making the recall repairs. An investigation traced the problem to the counterfeit materials used by the Chinese supplier.
Aston Martin says this time, they will personally be in China to assure the pedal arms are manufactured correctly. Once that's over, the automaker said they are switching to a non-Chinese supplier for the part.
The recall will begin early this month. Aston Martin dealers will replace the accelerator pedal assemblies, including on all cars already "fixed" during the previous recall.
Owners can contact Aston Martin at 888-923-9988 and refer to recall number RA-03-0017.