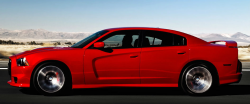 — After numerous complaints over the past three years, the National Highway Traffic Safety Administration (NHTSA) has opened an investigation into alternator failures in model year 2011-2012 Dodge Chargers.
NHTSA says half the complaints indicate the alternators failed while the cars were traveling over 40 mph. Alternator failure can mean a stalled engine whether parked or traveling on a four-lane highway.
CarComplaints.com has heard the same alternator complaints from angry Dodge Charger owners, including about the 2011 Charger.
"Driving home from work I smelled a burning smell from my Charger while waiting at a light. I didn't think it was my car until after my radio shut down, and the different dash lights came on, then i pulled over saw smoke coming from the passenger side and a loud noise coming from the engine. Dodge needs to man up and take care of this problem because I can guess everyone that went by me was thinking I won't buy one of those cars!" - Dennis L., Glen Allen, Va.
Another 2011 Dodge Charger driver told us what the cost could be, after already throwing out money for an unnecessary battery.
"I took it to the dealer hoping they would help me but the service manager told me just to buy a new battery, that he was sure that was the problem. well guess what it wasn't so $190 down the drain. I took it to auto zone they did a diagnostic test and was told that it is the alternator but it's only sold by the dealership. well yea price check that and it like $800 for parts and labor." - Thelma S., Spring, Texas
NHTSA hasn't said much about the investigation other than a total of 123,000 Dodge Charger cars are under the microscope. It's possible the investigation could be closed if a defect isn't found, the investigation could be expanded or about 123,000 cars could be recalled.
CarComplaints.com will update you with any further developments.