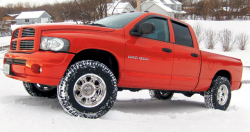 — About 257,000 model year 2005 Dodge Ram 1500 trucks are recalled after reports of drive shafts detaching and causing a loss of vehicle control.
The recall follows a federal investigation in June after Ram 1500 owners complained about locked-up rear differentials or separated drive shafts that caused the trucks to spin out of control. Owners said they had no warning before the rear axle locked and caused the trucks to lose control.
Dodge says the problem in the Ram 1500 trucks is rear axle pinion nuts that can loosen because of a spline that is too small. That spline is on the pinion gear and if the pinion nut loosens, the rear axle can lock and the drive shaft can break.
The automaker says the recalled Dodge Ram 1500 trucks were built January 28, 2004, to August 3, 2005.
The recall should start about February 13, 2015., when Dodge dealers will install a retention feature to the pinion nut.
If you own a 2005 Dodge Ram 1500 and have questions or concerns, contact Dodge at 800-853-1403 and refer to recall number P77.
Be aware that Chrysler Group recently changed its name to FCA, which is probably what will appear on the Dodge Ram 1500 recall notice.