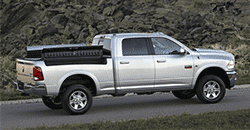 — A Dodge Ram "death wobble" lawsuit alleges Ram trucks wobble out of control at highway speeds to the point drivers believe they have blown out a tire.
The class-action lawsuit was filed by Richard Samuel, who claims his 2007 Dodge Ram 3500 started shaking violently to the point he had to pull off the highway. The lawsuit alleges the "death wobble" happened again even after Samuel had the Ram equipped with new tires.
Samuel received a recall notice on his 2007 Dodge Ram 3500 concerning tie rods, but his dealership said his 3500 wasn't part of the recall.
The "death wobble" is the phrase Dodge Ram owners use to describe what allegedly happens when driving over rough surfaces or small bumps at 50 mph or more. The lawsuit alleges the only way to stop the wobble is to bring the trucks to a complete stop.
The plaintiff claims the following Dodge Ram trucks have a defect in the steering linkage system:
2006-2008 Dodge RAM 1500
2004-2012 Dodge Ram 2500
2004-2012 Dodge Ram 3500
2007-2012 Dodge Ram 3500 Cab Chassis
2008-2012 Dodge Ram 4500
2008 Dodge Ram 5500
The Ram lawsuit alleges Chrysler has known about the "death wobble" for years but did nothing until the automaker started ordering recalls that were ineffective and excluded affected trucks. Furthermore, the lawsuit says Chrysler used defective parts during recalls and in many cases, owners took their trucks to dealerships only to find out parts weren't available.
Owners of the trucks named in the lawsuit have written to CarComplaints.com about the "death wobble" and how it occurred even after the trucks were allegedly repaired.
"I just had the recall repair completed on the Tie Rod and on my way home, pulling a 14' trailer, I hit a medium bump in the road, speed was 55 mph in a construction zone, the truck started shaking badly, steering wheel shaking side to side, I had to put on flashers and drop speed to 30 mph to regain control of steering. I almost got hit from behind by a semi truck, who flipped me off as did a few others next to me. I think this problem should be investigated as some one is going to get killed by this happening to them." - 2007 Dodge Ram owner / Bridgeport, Ohio
"While driving at about 60 mph, i hit a minor bump in the roadway and the truck started shaking violently. the only way it stopped was i had to reduce my speed to 30 mph, the problem was i was in the express lane, i was in front of a semi truck with a full load, and i had my 4 year old daughter with me. it was a very scary and dangerous situation." - 2007 Dodge Ram owner / Chicago, Illinois
Chrysler has ordered recalls on some of the trucks to replace the tie rods, but then had to re-recall trucks because the replacement tie rods were defective.
Samuel is represented in the Dodge Ram "death wobble" lawsuit by Girard Gibbs, and Greg Coleman Law.
In September 2014, Chrysler went on the offensive and asked for a different lawsuit to be dismissed over defective tie rods in Dodge Ram trucks.
Read owner-reported complaints about the Dodge Ram trucks named in the "death wobble" lawsuit: