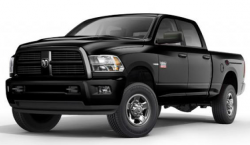 — Dodge Ram tie-rod problems will get a closer look from the government over concerns previous Ram tie-rod recalls were a jungle of mismanagement.
The National Highway Traffic Safety Administration (NHTSA) has opened a "recall query" into 971,721 model year 2003-2012 Dodge Ram 1500, 2500 and 3500 trucks to look into the potential of the left tie-rod ball stud to break and cause a loss of steering.
After Chrysler ordered technical service bulletins and recalls for the tie rods, NHTSA reviewed what Chrysler told dealers about how to fix the trucks and discussed issues concerning the difficulty of the repair procedures. The government was also concerned independent repair shops might have trouble performing the repairs.
In response, Chrysler changed the design of the left tie-rod assembly and included more trucks in the recall. However, complaints kept pouring in about busted tie rods and the unavailability of repair parts.
NHTSA heard from hundreds of Ram owners who complained about problems making dealer service appointments. Many consumers said they were told it could take many months before replacement parts would be available.
Chrysler management denied there were any problems with getting parts, but Chrysler dealers were saying severe parts restrictions were in place. After questions from NHTSA, Chrysler admitted the recalls had been suspended over concerns the replacement parts weren't up to standards.
Although Chrysler eventually started the recalls again, the government wants to know more about what Chrysler was doing during this time.
The recall query will also take a close look at the oversight and management of Mopar, Chrysler's parts division.
Chrysler is also facing a lawsuit over the so-called Ram "death wobble" caused by defective tie rods and another Ram lawsuit that alleges the tie-rod problems have caused the trucks to lose value.