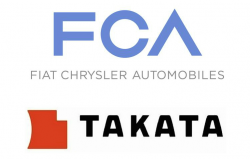 — FCA US (formerly known as Chrysler Group) is recalling about 3.3 million older-model vehicles globally to replace the driver's side airbag inflators. The inflators, made by Takata Corp., have caused millions of vehicles to be recalled while numerous injuries and deaths have been linked to the exploding airbags.
Chrysler ordered previous airbag recalls for vehicles in areas of high absolute humidity based on the belief moisture can cause problems with the airbag inflators. However, the National Highway Traffic Safety Administration requested (forcefully) that FCA US forget the smaller regional recalls and order nationwide recalls.
The recall of 3.3 million vehicles covers an estimated 2,890,785 vehicles in the U.S., 258,586 in Canada, 66,436 in Mexico and 99,030 outside those areas.
FCA US names the vehicles as the:
2004-2007 Dodge Ram 1500
2004-2007 Dodge Ram 2500
2004-2007 Dodge Ram 3500
2004-2007 Dodge Ram 3500 Chassis Cabs
2004-2007 Dodge Durango
2004-2007 Chrysler Aspen
2004-2007 Chrysler 300
2004-2007 Dodge Charger
2004-2007 Dodge Magnum
2004-2007 Mitsubishi Raider
2004-2007 Dodge Dakota
FCA US says it's aware of one injury related to exploding Takata airbag inflators, but that incident occurred in Florida. The automaker said there have been no other reports of accidents or injuries. In addition, FCA US says over 1,000 laboratory tests have been conducted on airbag inflators but no problems were discovered.
Owners of the recalled vehicles should watch their mail for official notification from FCA US, although the automaker didn't mention when the recall will begin. FCA US said replacement parts will first be made available in areas of high absolute humidity.
Customers with questions or concerns should call FCA US at 800-853-1403.
Read owner-reported complaints about the vehicles named in the FCA US airbag recall: