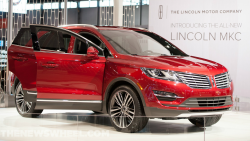 — Ford Motor Company announced it will recall about 3,000 vehicles in three separate recalls, all from the 2015 model year.
Ford Transit
Ford says about 1,300 model year 2015 Transit vans can leak brake fluid from a joint between the rear brake caliper and brake hose. No brake fluid means no brakes and even a small loss of fluid can greatly increase the stopping distance of the van.
Ford says it knows of just one small accident, and that was at the assembly plant. However, no reports of serious accidents or any injuries have been reported. Ford didn't say when the recall will begin, but the automaker says dealers will replace washers on the rear brake caliper and brake hose joints.
A second recall involves the same van but for a different defect than leaking brake fluid.
Ford says about 600 model year 2015 Ford Transit vans were built without an epoxy reinforcement on the sliding doors. The epoxy helps to keep the doors shut in the event of a side-impact crash. However, Ford says it is unaware of any accidents or injuries related to the missing epoxy.
Ford dealers will install a reinforced plate in the doors to help keep them shut in an accident. However, Ford didn't say when dealers will do that.
Lincoln MKC
In the third recall, Ford is recalling 1,274 model year 2015 Lincoln MKC luxury SUVs because of a defect in the windshields. The problem occurred during manufacturing and is caused by air trapped between layers of glass, leaving bubbles or other marks in the windshield.
As with the other two recalls, Ford didn't say when the Lincoln MKC recall will begin. Owners will receive a letter in the mail with instructions to take the SUVs to a dealer so the windshield can be replaced.
The recall is underway and will have Ford dealers inspect the windshields for air bubbles, replacing them as necessary. Owners may contact Ford/Lincoln at 800-392-3673 and refer to recall number 14C07.