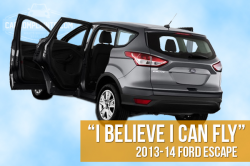 — Ford apparently doesn't want General Motors to get all the attention for announcing recalls, so Ford is trying to play catch-up. Granted, they have a long way to go, but at least it's a start.
Ford has announced they are recalling 582,000 model year 2013-2014 Escape SUVs because the doors could fly open while cruising down the highway. The recall is in addition to the 595,000 model year 2013-2014 C-MAX and Escape vehicles Ford just recalled because the side-curtain air bag could fail in a crash.
Ford says the problem was first noticed in April, 2013, when customers complained about exterior door handles getting stuck, doors which were difficult to close, and in some instances doors that opened while driving.
The suspected culprit was thought to be water entering the door and handle mechanism, then engineers thought extreme heat might be the problem. Both those concerns were laid to rest when Ford engineers discovered handles that were improperly installed in the door sheet metal. The manufacturing error could cause a misalignment between the exterior door handle and the door outer panel.
The recall should begin on May 26, 2014. Ford dealers will inspect and correct the mounting of the door handles.
Affected Escape owners can contact Ford customer service at 800-392-3673 and refer to recall number 14S03.