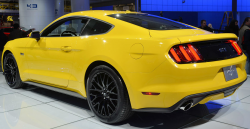 — Ford is recalling 53 model year 2015 Ford Mustangs to fix seat belt buckle problems caused by a tension sensor that wasn't calibrated at the supplier.
The automaker says a seat belt buckle tension sensor that isn't calibrated could cause the front passenger to be wrongly classified when the system deploys the air bag. This typically means an air bag that deploys based on the occupant being a child when in fact the occupant is an adult, or vice versa.
Ford says the Mustangs were built from August 18, 2014, to October 2, 2014.
There have been no reports of accidents or injuries related to the tension sensor, but dealers will need to replace the entire seat belt buckle assembly to fix the defect.
Ford didn't say when the recall will begin, but owners of the 2015 Ford Mustang should watch for a recall notice in the mail.