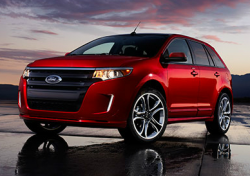 — Ford is recalling over 83,000 vehicles because they could stop moving forward while you're driving, and they could roll away even when you think they're in park.
Ford names the vehicles as the 2012-2014 Ford Edge and Lincoln MKX, 2013-2014 Ford Taurus and Lincoln MKS, and the 2013-2014 Ford Flex and Lincoln MKT.
Ford discovered the defect in November 2013 during routine warranty claim monitoring that showed right front halfshafts disengaging from the linkshafts.
Between February and June 2014, Ford inspected the suspect vehicles and found the circlips (c-clips) had not been correctly installed between the halfshafts and the linkshafts. Ford believes the problem occurred during manufacturing when the halfshaft was not correctly installed.
The wheels will lose all power if the halfshaft and linkshaft become disengaged while driving. In addition, the vehicle could roll away if the parking brake isn't applied before exiting the vehicle.
The recall is expected to begin by August 29, 2014. Ford dealers will check if the halfshaft is installed properly and if it's not, Ford will replace the linkshaft. The halfshaft will also be replaced if there is evidence of damage to the spline.
If you own one of the recalled vehicles and have questions, contact Ford customer service at 800-392-3673 and give them recall number 14S10.
Read what owners say about the problems they experience with the vehicles named in the recall.