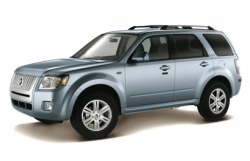 — Ford is recalling 70,000 older Escape and Mercury Mariner hybrids with engines that could stall. The recalled hybrids include the 2005-2008 Ford Escape hybrid, manufactured October 13, 2003, to June 20, 2008, and the 2006-2008 Mercury Mariner hybrid, manufactured June 10, 2005, to June 20, 2008.
Ford says the motor brushes in the original coolant pump can wear out and fail, causing the electronics in the pump to overheat. The high heat can trigger the "failure mode effects management" system and cause the SUV to lose power in an effort to protect the transmission.
The automaker says the SUVs can be restarted once everything cools down and there have been no reports of accidents or injuries related to the defective pumps. However, based on what owners of the 2006 Ford Escape Hybrid told CarComplaints.com, the incidents caused enough stress to last for years.
The recall should begin about October 27, 2014. Ford dealers will replace the original coolant pump with a pump that doesn't have brushes. If you have already paid to have the new brushless pump installed, you'll have until April 30, 2015, to be reimbursed by Ford.
Owners of the recalled Ford Escape and Mercury Mariner hybrids can contact Ford at 866-436-7332 and reference recall number 14S19.
Check out what owners say about the Ford Escape Hybrid and Mercury Mariner: