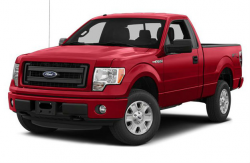 — Ford has told dealers to stop selling certain model year 2014 F-150 pickup trucks and told owners to park the trucks.
The recall affects the power steering in 5,675 trucks equipped with the 3.7L and 3.5L EcoBoost V-6 and 5.0L DOHC V-8 engines. The action is an expanded recall from a few weeks ago of 372 model year 2014 Ford F-150s for the same problem.
Ford says they aren't aware of any accidents or injuries, but the defect could easily cause serious problems on the road. The trucks have motor position sensor magnets incorrectly installed in the electronic power assist steering gears. The defect could cause the Ford F-150 to lose all steering control, so just imagine trying to drive the truck on a highway without a steering wheel.
The recall should begin on July 7, 2014, and the automaker is adamant that all 2014 Ford F-150s stay parked until they are fixed.
With questions, call Ford customer service at 800-392-3673 and give them recall number 14S09.
The F-150 stop-sale order was announced the same time GM ordered a stop-sale on its popular Cruze cars. It's a good indication automakers are trying to jump on potential problems before they turn into huge problems.
Read what owners say about their Ford F-150 trucks, or if you have problems with yours, we want to hear about it.