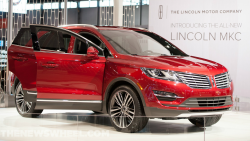 — Ford is recalling almost 2,000 newer model-year vehicles for fuel system problems, especially involving the fuel filters. Even though these vehicles are new, some have already been recalled in the past few months.
Ford F-650, F-750
Owners of larger Ford trucks aren't immune to recalls, as Ford showed when it announced over 1,600 model year 2015 Ford F-650 and F-750 trucks can stall in the middle of the road.
Ford says the trucks are equipped with fuel filters that have a filter shell that can detach from the fuel filter nut plate. The automaker says the fuel filters were built by a company called Fleetguard and the trucks are equipped with Cummins ISB or ISL engines.
The recalled 2015 Ford F-650 trucks were manufactured May 12, 2014, to July 22, 2014, and the Ford F-750 trucks were built May 12, 2014, to August 4, 2014.
A large truck stalling without warning in the middle of a busy highway won't do anyone any good, so engine-maker Cummins will need to replace the fuel filter. Hence, owners should watch for a recall notice sent directly from Cummins.
If you own one of the recalled Ford F-650 or F-750 trucks, feel free to contact Ford at 866-436-7332 or Cummins at 800-223-4583 and use the recall number, 14V01.
Ford Focus / Ford Escape / Lincoln MKC
More stalling engines have caused Ford to recall 300 model year 2014 Ford Focus, Escape and 2015 Lincoln MKC vehicles. The automaker says the fuel delivery module might crack between the filter body and the cap, causing a loss of fuel pressure. The engine can stall if the fuel pressure drops too much.
Ford says the recalled 2014 Focus was manufactured May 1, 2014, to May 24, 2014, the Escape was built on June 6, 2014 and the Lincoln MKC vehicles were manufactured June 4, 2014, through July 7, 2014.
Ford owners should have already received recall notices with instructions to get the vehicles to a dealer for replacement of the faulty fuel delivery module. Owners of the affected Ford Focus, Escape and Lincoln MKC may contact Ford customer service at 866-436-7332 and give them recall number 14S20.
Less than two months ago, Ford recalled the 2015 Lincoln MKC to fix windshields invaded by bubbles and recalled the 2014 Escape because the roof glass could fly out of the SUV.