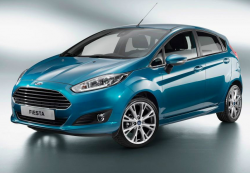 — In a month that has seen Ford recall about 246,000 cars, trucks, vans and SUVs, the automaker announced three additional recalls of consumer vehicles.
2014 Ford Escape
Almost 1,900 model year 2014 Ford Escapes have glass roofs that could detach and fly away from the vehicles. Ford says a faulty urethane bond was applied between the panorama roof glass and the attaching bracket. This can cause noise, water leaks or complete separation of the glass from the Escape.
Ford says the recalled Escapes were manufactured October 15, 2013, through October 22, 2013.
Most 2014 Ford Escape owners should have already been contacted. Ford dealers will replace the roof glass if its production date and sequence number falls within a certain range. The Escape roof glass recall number is 14S13.
2014 Ford Transit Connect
About 370 model year 2014 Ford Transit Connect vans are called back because of a simple mistake with a label on the brake reservoir cap. That mistake with the label is that it's missing, and that's against federal safety rules.
The National Highway Traffic Safety Administration says without the correct brake reservoir label on the cap an owner might add the wrong brake fluid. The wrong fluid can cause damage to the brake system seals which can cause brake fluid to leak.
Affected 2014 Ford Transit Connect owners should have been notified by now. Ford dealers will replace the brake reservoir cap with one that includes the correct label. The Ford Transit Connect brake reservoir cap recall number is 14C06.
2014 Ford Fiesta
It won't be a fiesta for 175 model year 2014 Ford Fiesta owners if gas starts leaking from the tanks, but Ford says that's exactly what can happen. The automaker says gas tanks built during a specific time period might be missing a layer of adhesive that can lead to gas leaking from a seam.
It doesn't take an automotive genius to know what could happen with a little leaking gas around hot car parts or a spark.
Owners of the affected 2014 Ford Fiestas probably have already received a notice from Ford which says dealers will replace the gas tanks. Ford's number for this recall is 14S12.
If you have questions about any of these recalls, contact Ford customer service at 800-392-3673.
To read the other Ford recalls announced just in August 2014, keep reading below. If you have a complaint about your Ford vehicle or any vehicle, tell us here.