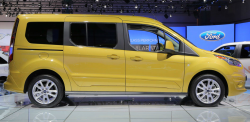 — Ford is recalling over 94,000 cars and SUVs for everything from roof glass that can fly out of the Ford Escape to Ford Taurus cars that roll away and down the street.
The National Highway Traffic Safety Administration has not released any information about the recalls and Ford hasn't said much, either.
Ford Taurus, Edge, Flex, Police Interceptor, Lincoln MKS, MKT, MKX
Ford says about 92,000 cars in the U.S. could roll away because the right halfshaft is defective, although the automaker didn't say what caused the defect.
The recalled cars are the 2013-2014 Ford Taurus, Ford Flex, Ford Police Interceptor, Lincoln MKS and Lincoln MKT; 2012-2014 Ford Edge; and the 2014 Lincoln MKX.
Ford says the halfshaft defect can cause the cars to roll down the street if the gear shifter is in "park" without the emergency brake applied.
Ford dealers will replace the right halfshaft if needed.
Ford Escape
It almost seems a Ford recall wouldn't be complete without the Escape SUV being mentioned. About two months ago Ford recalled 582,000 model year 2014 Escapes because the doors could fly open while traveling down the road. At the same time, the 2014 Ford Escape was recalled because of air bag failure.
According to Ford, over 2,000 model year 2014 Ford Escapes might have a glass roof that could detach from the SUV. If that doesn't happen the glass could still leak water or cause a lot of noise. Ford says the roof glass can fail at a bond between the glass and the bracket that holds the glass.
Ford dealers will replace the glass panel if they were built at the Louisville plant between October 15 and October 22, 2013.
Ford Fiesta
Almost 200 model year 2014 Ford Fiestas are at risk of going up in flames because of missing adhesive on the gas tanks. All Ford says is that missing adhesive could cause fuel to leak and cause a fire.
Ford Transit Connect Van
It's against regulations, but at least this recall is very minor. About 368 model year 2014 Ford Transit Connect vans shipped to Puerto Rico have incorrect labels on the brake fluid reservoir cap. Ford says the Puerto Rico vans have a European brake reservoir label not approved for use in the U.S.
CarComplaints.com will update this page when further information is available. Click a model below to read what owners say about those models, or click here to file your own complaint.