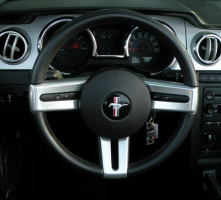 — The last two months haven't exactly been joyful for Ford Motor Company. Just a few days ago CarComplaints.com told you about a lawsuit against Ford because of carbon monoxide allegedly entering the cabin area of 2013 Ford Explorer SUVs.
Over a week ago, Ford announced its mileage estimates on 2013-2014 hybrid vehicles were way off. And in May, Ford recalled about 2.3 million vehicles for air bag problems, doors that can fly open, and steering, lighting, and floor mat problems.
Now Ford is looking at more issues because of air bag supplier Takata, which sold Ford air bags that could explode in a crash. The problem is the air bag inflator, a metal canister inside the air bags that can explode when the air bags deploy. Flying metal could harm you even if a crash doesn't.
It's not the first time Takata has been the source of recalls. Over three million vehicles were recalled in 2013 because of Takata air bags, but Ford wasn't named in those recalls.
Ford named the 59,000 affected vehicles as the 2005-2007 Mustang, 2005-2006 GT, and 2004 Ranger vehicles originally sold or currently registered in Florida, Puerto Rico, Hawaii and the U.S. Virgin Islands. This is called a regional recall, in this case, based on areas with high absolute humidity that can cause moisture to build up inside the air bags.
Ford says the driver's air bag inflators are affected in the 2005-2007 Mustang; the passenger's air bag inflators are affected in the 2004 Ford Ranger; and both the driver's and passenger's air bag inflators are affected in the 2005-2006 Ford GT.
The National Highway Traffic Safety Administration hasn't released the date when the recall will begin. Ford says its dealers will inspect the vehicles and replace any defective air bag inflators.
With questions, contact Ford at 800-392-3673 and reference recall number 14B04.