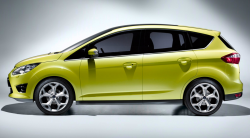 — Ford is recalling 850,050 newer model SUVs and cars because the air bags could fail in a crash. The vehicles include the 2013-2014 Ford C-Max, Fusion, Escape and Lincoln MKZ.
The automaker says a short circuit in the restraints control module can cause failures of the air bags and seat belt pretensioners, and cause the air bag warning light to remain on. That's enough to cause any driver a ton of trouble, but Ford says the short circuit can also cause problems with other functions of a vehicle, including the stability control system. The stability control system and other systems use data from the restraints control module.
Ford says about 745,000 of the vehicles are in the U.S., 82,000 are in Canada and about 20,000 were sold in Mexico.
The recalled C-MAX cars were manufactured January 19, 2012 to November 21, 2013; the Fusions were built February 3, 2012 to August 24, 2013; the affected Escapes were built October 5, 2011 to November 1, 2013 and the Lincoln MKZ cars were manufactured April 25, 2012 to September 30, 2013.
Ford said it is unaware of any accidents or injuries related to the defective restraints control modules, but the modules will need to be replaced in all the affected vehicles.
Ford currently hasn't released a schedule of when the recall will begin.
In May of this year, Ford recalled 595,000 model year 2013-2014 C-MAX and Escape vehicles because the side-curtain air bags could fail in a rollover crash. That recall was also blamed on a defect in the restraint control module that had an errors in the software code. In the May recall, Ford named the supplier as Robert Bosch LLC.