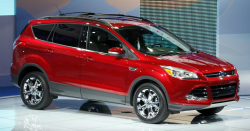 — The National Highway Traffic Safety Administration (NHTSA) has closed their investigation into throttle body problems in Ford vehicles after Ford agreed to fix about 1,600,000 cars and SUV's.
Apparently Ford doesn't want to call it a recall, and NHTSA says it's not a recall. Instead, they are calling it a massive "customer satisfaction program" that extends the warranty of the electronic throttle body (ETB) for up to 10 years of service or 150,000 miles.
NHTSA opened the investigation in February, 2013, after thousands of complaints about ETB failures in model year 2009-2013 Ford Escape, Fusion, Mercury Mariner and Mercury Milan vehicles. The affected vehicles are equipped with 2.5L and 3.0L engines that seem to stall and lose power.
Ford identified 59,807 warranty claims related to ETB replacements and traced the problem to electrical connectivity problems in the ETB. Owners reported vehicles that seemed to stall and completely lose power, but investigators found the vehicles entered a limited "limp home mode" that kept the cars moving but at drastically reduced speeds.
The so-called "customer satisfaction program" will extend the ETB warranty coverage for up to 10 years of service or 150,000 miles from the warranty start date of the vehicle. Ford says all vehicles are eligible for the program through January 31, 2015, regardless of mileage.
Additionally, Ford dealers will update the powertrain calibration to help the vehicle keep moving if the ETB malfunctions.
Owners should have received a letter from Ford, but if you didn't, call them at 800-392-3673.