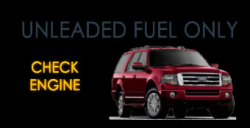 — Ford engineers might have finally found what has been causing complaints about rough idling and vibrations in certain vehicles equipped with 5.4-liter V-8 engines.
The automaker has issued a technical service bulletin (TSB) to dealers about the 2004-2010 Ford F-150, 2006-2008 Lincoln Mark LT, and the 2005-2013 Ford Expedition and Lincoln Navigator SUVs.
A TSB isn't a recall that will require Ford contact affected vehicle owners to have their vehicles serviced. Instead, a TSB contains repair instructions to dealers so mechanics can repair a vehicle if an owner complains about the problem. Unlike a recall, an owner might get stuck with paying for repairs if the work isn't covered under a warranty.
The Ford TSB, called "Engine - Intermittent Rough Idle, Rattle Noise While Driving," describes vehicles that experience intermittent rough idle and/or a rattle noise while driving. The check engine light will also be illuminated on the dash.
The driver of a 2014 Ford Explorer told CarComplaints.com that Ford mechanics had no idea what was causing the SUV to vibrate. The Ford dealership said it wouldn't investigate the problem until the "break-in" period was reached, described as 5,500 miles.
The Explorer had 2,100 miles at the time, and the owner said the rough idling and vibrations weren't there in the beginning.
"Just reached 2,100 miles on it. I pay way too much money a month especially for a new car to be sitting at a red light or just in park and this weird, rough idle vibration starts. It is bad enough that even my 8 year old child is telling me my car is shaking. I just want it fixed and solved." - Flowery Branch, Georgia
Ford believes the problem is caused by camshaft-timing solenoids that can go bad and cause the timing to go haywire.
The TSB instructs Ford dealers to replace both the left and right solenoids. Ford says the repair could easily take four hours to complete, so with questions contact Ford at 800-565-3673 or Lincoln at 800-521-4140.
Read what owners say about the vehicles named in the Ford TSB: