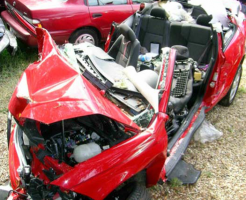 — General Motors has finally admitted the death toll from its defective ignition switch is more than the 13 fatalities originally traced to the defect. Kenneth R. Feinberg, the attorney in charge of the GM ignition switch compensation fund, says 19 death claims have been processed and approved for payments.
GM created the compensation fund after an admitted 10-year delay in ordering ignition switch recalls caused accidents, injuries and deaths. A simple bump of the knee or a heavy key ring caused the ignition switch to move out of position and shut off the engine. The sudden failure of the engine caused a complete loss of power steering, power brakes and failure of the air bags to deploy in a crash.
A claimant must prove the air bags didn't deploy in a crash involving one of the 2.6 million older model recalled cars. Family members of those who died are eligible for at least $1 million and the spouse or dependent of a deceased victim will qualify for an additional $300,000.
The program began accepting claims on August 1 and has received over 440 claims to date, 125 of those claims related to fatalities. About 262 claims have been submitted for injuries that required medical treatment within 48 hours of an accident, and 58 claims have been filed based on serious injuries.
GM said to qualify for a "serious injury" a person must have suffered from burns, brain damage, double amputation or injuries that caused paralyzation.
Bob Hilliard, one of the lead attorneys representing claimants, said GM's longstanding number of 13 fatalities will fall by the wayside as more evidence comes to light.
"I think GM's intent on framing the conversation by mentioning 13 was disingenuous because there's just so many folks we may never even discover."
Mr. Hilliard will be one of the attorneys who will have to work with the families and victims to decide whether to reject or accept the settlement offer from GM. Accepting a payment from GM waives the right to sue the automaker over its ignition switch.
It's expected the number of confirmed deaths will far exceed 19 as Feinberg faces an ever-growing backlog of ignition switch claims. It's only been about 6 weeks since the program began accepting claims and GM owners or their families have until December 31, 2014, to file a claim.