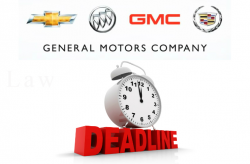 — General Motors has extended the deadline to file claims related to deaths or injuries related to defective ignition switches that can move out of position and shut off the vehicles. The original deadline was December 31, 2014, but GM has given consumers another month to submit claims, until January 31, 2015.
GM compensation fund administrator Kenneth Feinberg made the announcement as GM said 33 death claims have been approved as of November 14, 2014. A total of 2,105 death and serious injury claims have been submitted so far, but GM didn't say how many injury claims have been approved.
A claimant must prove the air bags didn't deploy in a crash because the ignition switch moved to the "off" or "accessory" position. Family members of those who died are eligible for at least $1 million and the spouse or dependent of a deceased victim will qualify for an additional $300,000. Accepting an offer from GM means giving up the right to sue the automaker over the ignition switch.
Defective Ignition Switch Claims Extension
Information about the deadline extension was sent to about 4.5 million current and previous owners of eligible vehicles, a request Senator Richard Blumenthal made to Mr. Feinberg.
Blumenthal asked for the extension after hearing the story of Jean Averill. GM had included her on the list of victims related to the defective ignition switches but the automaker never told the Averill family anything about what caused the accident. Furthermore, GM didn't inform the family about the compensation fund.
"This incident illustrates the need to reconsider and substantially modify – if not eliminate – these arbitrary compensation fund deadlines. GM's failure to notice the Averill family remains a shocking contradiction of whatever public trust the company was taking steps to rebuild." - Sen. Richard Blumenthal
Blumenthal also has problems with the compensation fund because owners don't have any idea if they are receiving a fair deal by accepting a monetary offer from GM.
"GM should either commit to waiving its bankruptcy shield in all pending legal actions, or permit all victims who qualify for the fund to postpone their acceptance of their compensation until the completion of the Department of Justice investigation into GM's possible criminal actions."
How to Submit a Claim
To submit a claim, contact the GM Ignition Compensation Claims Resolution Facility.