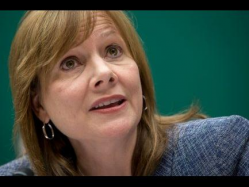 — General Motor's new CEO, Mary Barra, faced tough questions from members of Congress on the first day of hearings that will try to discover how and why GM waited 10 years to recall millions of defective cars.
A striking number popped up during the hearing when Barra was shown a faulty ignition switch. The switch, it turns out, was a 57-cent switch that caused GM to ignore clear evidence of a problem in 2005 and label a recall as "too expensive."
Barra told members of the House subcommittee that today's GM will take action on any defect without taking the cost into consideration. To some observers this is an empty statement because GM had already redefined their company as the New GM after the government bailout.
Barra apologized numerous times to all those affected by the recalls, especially to those who experienced fatalities from the defective ignition switch.
"I am deeply sorry," she said.
Barra promised "to hold ourselves accountable" once all the facts are known and said:
"Our employees and I are determined to set a new standard. Our customers and their safety are at the center of everything we do."
GM has now retained two experienced investigators who have the job of finding the facts of what went wrong.
Former U.S. Attorney Anton Valukas will lead an internal investigation and according to GM, Valukas has free rein to go where the facts take him.
GM also retained Kenneth Feinberg as a consultant to explore and evaluate options in its response to families of accident victims. Feinberg is known in corporate circles after handling compensation issues related to the September 11, 2001 attacks, the BP oil spill in the Gulf of Mexico, and the Boston Marathon bombing.
Acting National Highway Traffic Safety Administration chief, David Friedman, said GM had information that showed air bags failed because of the ignition switch defect, but didn't share the information with NHTSA until last month.
CEO Mary Barra Testimony