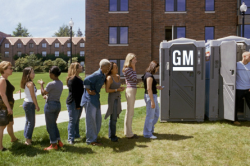 — General Motors has worked its way beyond 30 million recalled vehicles in 2014 with the announcement that hundreds-of-thousands of additional vehicles need to be repaired. By GM's count, this brings the total number of separate recalls in 2014 to 74 and the number of recalled vehicles to 30,004,036. And no, that's not a typo.
Cadillac SRX / Saab 9-4X
The largest recall involves over 290,000 Cadillac and Saab cars in the U.S., and another 140,000 outside the U.S. GM says the 2010-2015 Cadillac SRX and 2011-2012 Saab 9-4X can sway and wander all over the highway.
GM blames the wandering wheels on problems with the rear suspension, specifically a loose jam nut in the rear toe adjuster link. A loose toe adjuster link can cause damage to the thread and that damage could cause the thread to fail. If that happens at highway speeds, the wandering car could quickly turn into an out-of-control car.
The Cadillac and Saab recall should begin in November 2014. Dealers will inspect the left and right rear toe link adjuster lock nuts and replace them if needed.
If your Cadillac SRX or Saab 9-4X is taking unneeded strolls across the highway, contact Cadillac customer service at 800-458-8006 or Saab customer service at 800-955-9007 and give them recall number 14457.
Cadillac CTS, Escalade / Chevy Express, Impala, Silverado, Suburban, Tahoe, Traverse / GMC Yukon, Acadia, Savana, Sierra / Buick Enclave
Over 97,000 Buick, Cadillac, Chevy and GMC vehicles in the U.S. have problems with chassis control modules that could cause the vehicles to stall. Additionally, the defective modules could cause problems starting the engines. GM named the affected vehicles as the:
2014 Buick Enclave
2014 Chevy Express, Impala, Silverado and Traverse
2014 GMC Acadia, Savana and Sierra
2013-2014 Cadillac CTS, Escalade and Escalade/ESV
2013-2014 Chevy Suburban and Tahoe
2013-2014 GMC Yukon and Yukon XL
GM says it's unaware of any crashes, injuries or deaths related to the bad modules, but all the vehicles will need those modules replaced when the parts are available.
Chevy Spark
Almost 90,000 model year 2013-2015 Chevrolet Spark cars have hoods that could fly open while you're cruising down the highway.
GM says the hood has a primary and secondary latch that keeps the hood closed. The secondary latch is the problem as it can corrode and cause the striker to get stuck out of its intended position. If that happens and the primary latch isn't engaged, there goes the hood. In fact, GM said it is aware of that very thing occurring three times.
GM will notify Chevy Spark owners to make a dealer appointment to have the striker and latch replaced with a new part that has corrosion protection.
Affected owners of the 2013-2015 Chevrolet Spark can call Chevy at 800-222-1020 and use recall number 14456.
Chevy Caprice / Pontiac G8
It almost wouldn't be right to announce a list of GM recalls without at least one involving a defective ignition switch, so here goes.
Almost 47,000 model year 2011-2013 Chevrolet Caprice and model year 2008-2009 Pontiac G8 cars have ignition switches that can move out of position. As in the case of millions of other GM cars recalled with faulty ignition switches and keys, the automaker says a simple bump of the knee to the key can shut off the engine.
Once the key is out of the "run" or "on" position the car will lose its power steering and brakes, all engine power and all air bag function.
GM hasn't said when the recall will begin, but the automaker is warning owners of the 2011-2013 Chevrolet Caprice and 2008-2009 Pontiac G8 cars to adjust the driver's seat and steering wheel on each car. The more clearance between your knee and the ignition key, the better.
GM dealers will eventually remove the key blade from the original transmitter assemblies and cut and fit a revised key blade and housing assembly.
Affected owners can contact Chevy at 800-222-1020 or Pontiac at 800-762-2737 and reference recall number 14445.
Cadillac CTS-V, STS-V
Potential fire hazards have caused GM to recall 10,000 model year 2004-2007 Cadillac CTS-V and 2006-2007 Cadillac STS-V vehicles to fix the fuel pump.
The automaker blames the problem on electrical terminals in the fuel pump that can overheat and melt. This could cause the flange to melt and create a hole for gas to leak from the fuel pump. Leaking gas could cause the engine stall, and leaking gas in the presence of an ignition source could cause a fire.
As with previous recalls, GM currently has no idea when the recall will begin. Dealers will replace the fuel module and fuel tank jumper harness.
Owners of the 2004-2007 Cadillac CTS-V or 2006-2007 Cadillac STS-V may call Cadillac customer service at 800-458-8006 and give them recall number 14405.
Chevy Sonic
A small recall by GM's standards, about 300 model year 2014 Chevrolet Sonics will be called back to fix air bag problems. GM said the air bags should have a two-stage deployment, but a loss of electrical connection in the steering column can prevent the second-stage deployment from functioning.
The affected 2014 Chevrolet Sonics were manufactured July 28, 2014, to August 1, 2014.
GM doesn't know when the Sonic recall will begin, but we do know dealers will test the terminals in the IP harness clock spring coil connector and replace any loose terminals.
Affected 2014 Chevy Sonic owners can contact customer service at 800-222-1020 and give them recall number 14537.
Click below to read what owners say about the vehicles named in the latest recalls.