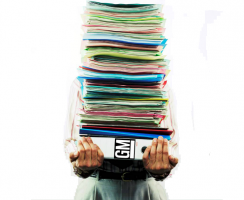 — General Motors has approved 38 death claims related to defective ignition switches in millions of older vehicles. GM started its compensation fund after a blizzard of lawsuits were filed alleging GM concealed the defect for over 10 years.
The defective switches cause cars to shut off with just a bump to the ignition key, and in some cases, a heavy key ring can cause the ignition switch to turn off.
The compensation fund was opened August 1 and will remain open for filing claims until January 31, 2015. GM says the fund was created for those who have lost loved ones or who have suffered injuries, with family members of those who died eligible for at least $1 million. The spouse or dependent of a deceased ignition switch victim will qualify for an additional $300,000.
Accepting GM's money means losing the ability to sue the automaker over the defect.
As of today, GM has received 2,262 claims for injuries and deaths, but many of those claims seem to have no basis in fact. To properly submit a claim a person must follow strict guidelines, but almost 1,000 claims have been submitted without any documentation. Another 500 claims were submitted with insufficient evidence and 265 claims have been classified as ineligible.
However, along with the 38 death claims that have been approved, 51 injuries claims have been approved, six of those for severe injuries.
GM is still trying to cope with the overwhelming number of recalls so far in 2014 in addition to the hundreds of lawsuits against the automaker for numerous alleged problems.
As of December 5, GM says over 30.4 million vehicles have been recalled in 80 separate recalls in 2014.
On a so-called bright side, GM says it will sell Cadillac models with front seats that can give you a massage while you drive. Apparently GM believes there aren't enough distracted and drowsy drivers on the roads, so it's important to offer a feature that will relax you at highway speeds.
"No time today to make it to the spa or schedule a visit with the massage therapist, no problem. On two 2015 models, Cadillac is offering front driver and passenger seats that can knead, roll and relax your back as you drive." - General Motors