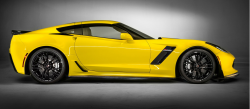 — General Motors is recalling over 800 model year 2015 Chevy Corvettes for two different defects, increasing GM's recall total in 2014 to over 75 and the number of recalled vehicles to over 30 million.
The smallest Corvette recall involves only 89 cars, but owners need to take this seriously because of the potential disastrous consequences.
GM says the driver-side front air bag can detach from the steering wheel and do serious harm if the air bag deploys. The automaker says the back plate of the air bag module can fracture in a crash and cause it to separate from the steering wheel.
GM didn't say if the air bags were supplied by Takata, the company responsible for millions of air bags that have metal inflators that can explode.
GM first thought about 2000 model year 2015 Corvettes were affected when the automaker stopped selling the cars last month due to air bag problems. However, GM says its estimate was off and only 89 cars need the driver-side air bag replaced.
With over 75 other recalls going on this year, GM didn't say when the Corvette air bag recall will begin. Owners of the 2015 Chevy Corvette should watch their mail, or call GM at 800-222-1020 and refer to recall number 14594.
Another 783 model year 2015 Corvettes are recalled because they could roll away and down the street. GM says a rear parking brake cable might not be in the correct position, which means if you park on a steep incline and use the parking brake, the Corvette might end up slipping away and out of sight.
As with the other Corvette recall, GM has no idea when the parking brake cable recall will begin. GM dealers will inspect and fix any cable that is out of position.
Owners of the 2015 Corvette can call Chevy customer service at 800-222-1020 and give them recall number 14620.