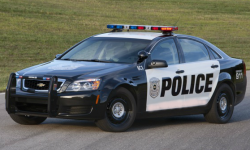 — Not even law enforcement can escape the wrath of General Motors recalls as the automaker announced over 7,500 model year 2011-2013 Chevrolet Caprice police patrol cars (PPV) are recalled because they could roll away and cause an accident.
Most cops hate paperwork, so the thought of writing a report about how the police car took off on its own probably isn't appealing to officers.
GM learned of the defect in March 2014 when the automaker received word that a 2012 Chevy Caprice PPV shifted out of park, went into reverse and hit another vehicle. The Caprice had been unoccupied and idling when the incident occurred.
Engineers discovered a pin in the gear shifter and a pin in the transmission selector assembly can move out of their intended positions. Although some car recalls that begin with police vehicles can later be expanded to include non-police versions of the cars, GM said that probably won't happen in this case. Engineers said the gear shifter and transmission assembly are specific to only 2011-2013 Chevy Caprice police cars.
However, many police cars are later sold to consumers, so any consumer who owns one of these cars should watch for a recall notice.
The defect can allow the driver to shift from "park" without depressing the brake pedal, and it can allow the ignition key to be removed without the transmission being in park.
Considering GM is busy handling about 74 other recalls right now, the automaker doesn't know when the Chevy Caprice recall will begin. However, GM knows its dealers will need to replace the shift lever roll pin, the base pivot pin and attach a brake transmission shift interlock retention clip.
If you have questions about your 2011-2013 Chevy Caprice police car, contact Chevy customer service at 800-222-1020 and give them recall number 14549.