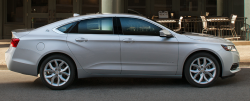 — Add another 57,000 cars to GM's list of over 29 million recalled vehicles in 2014 as the automaker announced the 2014 Chevy Impala will be called back.
General Motors says the affected Impalas can lose power steering, making it a pain to drive at slow speeds. GM says a bad electrical ground connection to the power steering control module is to blame.
GM found the problem in May 2013 and determined the bad connection was a result of electrical resistance due to paint that had seeped behind a nut that was not fully seated on the grounding stud during body shop paint.
As of June 24, 2014, GM received 253 warranty claims related to a loss of power steering, 251 of the claims being for vehicles built before January 1, 2014. The recall will involve 2014 Chevrolet Impala cars manufactured November 5, 2012, to December 20, 2013.
The recall should begin by the end of August 2014. GM dealers will clean paint from behind the ground stud nut and update the power steering control module software.
Owners of the 2014 Chevy Impala can call Chevy customer service at 800-222-1020 and give them recall number 14330.