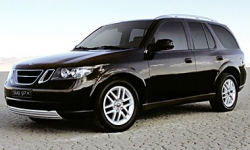 — General Motors has announced it is re-recalling 184,000 vehicles that were recalled a year ago over the risk of fire. In June 2013, GM recalled 193,000 vehicles because any kind of fluid could enter the driver's door module and cause corrosion that could result in a short in the circuit board.
It's now a year later and GM said the 2013 recall failed on the 2006 Chevrolet Trailblazer EXT and GMC Envoy XL, the 2006-2007 Chevrolet Trailblazer, GMC Envoy, Buick Rainier, SAAB 9-7x, and Isuzu Ascender.
GM said fluid can enter the driver's door master power switch module and cause the power door lock and power window switches to fail. The switch module could experience an electrical short and melt the components, leading to smoke and fire.
This "recall of a recall" involves the 2005-2007 SAAB 9-7x, 2006 Chevy Trailblazer EXT and GMC Envoy XL, and 2006-2007 Chevy Trailblazer, GMC Envoy, Buick Rainier and the Isuzu Ascender.
Because a fire could occur even when the vehicle is parked, GM is warning owners to park outside and away from anything flammable.
GM says even if your vehicle was repaired during the 2013 recall, you'll need to return to a dealer to get the vehicle fixed once again. However, considering GM is currently trying to repair 29 million vehicles from previous recalls this year, GM does not have the parts to fix the window switch defect. In other words, you might have to park outside for a long time to come.
The automaker plans on sending owners a letter later this month. A second letter will be sent once GM knows the parts are available.
With questions, comments, or angry outbursts, call Buick at 800-521-7300, Chevy at 800-222-1020, GMC at 800-462-8782, SAAB at 800-955-9007, or Isuzu at 800-255-6727.
GM's number for this recall is 14309.