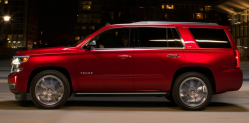 — General Motors is recalling about 680 trucks and SUVs to repair power steering problems. GM says the recalled vehicles include the 2015 Chevrolet Silverado, Suburban, Tahoe, GMC Sierra and Yukon XL.
GM says the power steering module can cause a total loss of power steering, which will still leave the ability to steer the vehicle, but it won't be easy. It can be especially dangerous if the power steering is lost while traveling at slow speeds.
The automaker says the wrong diodes were used in the circuit boards for the power steering modules. A driver would know the power steering is lost because a chime will sound and a warning message will appear on the driver information center. Another indication would be if you find turning the wheel is similar to lifting weights.
Owners of the recalled trucks and SUVs should have received recall notices by now. GM dealers will replace the power steering assist motor kit.
With questions or concerns, Chevy owners can call 800-222-1020 and GMC owners can call 800-462-8782. The GM power steering recall number is 14743.
GM has now ordered over 80 separate recalls involving over 30.4 million vehicles, all in 2014. And 2014 ain't over yet.
Read complaints submitted about the trucks and SUVs named in the power steering recall: