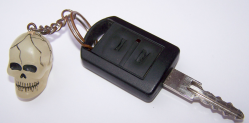 — General Motors has a lot of questions to answer about why they waited 10 years to recall vehicles with a known safety defect.
Less than two weeks ago, GM recalled about 780,000 model year 2005-2007 Chevy Cobalt and model year 2007 Pontiac G5 cars because the air bags could fail to deploy in a crash. GM said the problem was the ignition switch that could be moved out of the "run" position, in some cases simply because of the weight of the key ring.
GM said they knew of six front-seat fatalities in crashes that occurred at high speeds and off-road where the air bags failed to deploy because the key was turned off. Additionally, GM said they were aware of 17 additional incidents where the air bags failed to deploy in front-impact crashes.
However, GM said some occupants were not wearing seat belts and with the combination of that and the high speeds, an air bag might not have been enough to save the occupants.
GM now says they know of 13 front-seat fatalities and 31 incidents and will recall an additional 842,000 vehicles for the same ignition problem. The expanded recall includes the 2003-2007 Saturn Ion, 2006-2007 Chevy HHR, 2006-2007 Pontiac Solstice, and the 2006-2007 Saturn Sky.
GM admits they first learned of the problem in 2004 when an ignition switch malfunctioned on a Chevy Colbalt. GM technicians were able to replicate the problem during testing, yet no recall was ordered.
Instead, GM opened an internal investigation and then closed it after finding the cost and time involved would be too much to fix the problem.
GM received more reports in 2005 and approved a new key design to fix the problem, however, GM later canceled the proposal.
Dealers were directed to tell consumers to remove all items from key rings because the weight of the key rings could cause the ignition switch to move. The problem could easily occur if the vehicle hit potholes or took a hit in an accident.
It's taken years of discussions and numerous accidents to finally convince GM to recall the 1,367,146 vehicles, all while GM leadership says safety is their number one priority?
"Ensuring our customers' safety is our first order of business," said GM North America President Alan Batey. "We are deeply sorry and we are working to address this issue as quickly as we can."
GM submitted a detailed chronology of the problems and events to the National Highway Traffic Safety Administration that you can read here (PDF.)