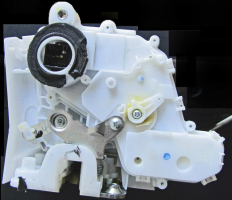 — Honda CR-V door lock actuator complaints have flooded the internet for years, and now owners of the 2007-2011 Honda CR-V will have a little something to celebrate. Honda has agreed to settle a class-action lawsuit that alleges the door locks have a defect the automaker hid from consumers.
Lead plaintiffs Scott Carter, Kevin Davitt, and Mark Tudyk purchased new Honda CR-Vs between 2007 and 2008 and started having door lock problems between 2011 and 2012. The plaintiffs alleged the door locks wouldn't lock or unlock properly.
The door lock actuator lawsuit claims the defect usually occurs after the 3-year/36,000 mile warranty expires, causing the repairs to be paid by the owner. Some owners reported a cost of $300 to $400 for the door lock repairs.
Owners of the Honda CR-V have complained to CarComplaints.com about door lock problems matching the same problems described in the lawsuit.
"Power door lock on the driver side failed. It would not stay unlocked. As soon as you unlock the doors either with the remote or the power bottom on the door, all doors would lock up. I saw other people with the door actuator problems on other doors, I am worried and don't know when mine would fail." - Elk Grove, California
"Another door actuator failed .... very disappointed in quality - trying to decide if I should replace other 2 remaining or wait for failure." - Maryville, Tennessee
"Noticed that locks had started locking and unlocking while vehicle is in motion. Seems to lock as vehicle is accelerating and then unlock when vehicle is decelerating. When vehicle is shut down, the front passengers' door will not stay locked. Sometimes appears locked, but when attempt made to enter on second try, door is now unlocked. When interior and/or remote is used to lock, front passenger door, it unlocks itself!" - Roanoke, Virginia
The class-action lawsuit accused Honda of violations of the New Jersey, Florida and California consumer fraud statutes. Further, the lawsuit sought recovery for breach of express warranty, breach of the covenant of good faith and fair dealing, common law fraud and unjust enrichment.
The settlement has Honda paying attorneys' fees and expenses in the amount of $1.4 million along with $1,500 to each of the three lead plaintiffs.
For consumers, Honda has agreed to perform door lock actuator repairs during an extended warranty period which is twice as long as the standard warranty for the 2007-2011 Honda CR-V. Any owner or lessee who has already paid to have the door lock actuator repaired can be reimbursed for the expense.
Additionally, Honda has agreed to a free replacement of the front driver's-side door lock actuator, even for vehicles that have never experienced a door lock problem.
Although Honda has agreed to settle the case under the terms listed above, a court still must approve the settlement.
The Honda door lock actuator lawsuit was filed in the U.S. District Court of the District of New Jersey, and brought by Chimicles & Tikellis LLP, and Cuneo Gilbert & LaDuca LLP.
Read what consumers have told CarComplaints.com about Honda CR-V door lock actuator problems.
Honda CR-V Door Lock Complaints: Model Year - 2007 / 2008 / 2009