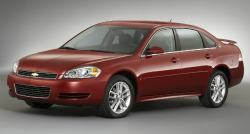 — General Motors hasn't looked too good in the media lately, and rightfully so. But the National Highway Traffic Safety Administration (NHTSA) isn't doing too well in the public relations category, either.
The auto safety advocacy group Center for Auto Safety (CAS) wants to know why NHTSA has ignored a defect petition to investigate alleged air bag failures in model year 2003-2010 Chevrolet Impalas.
The petition was filed by accident investigator Don Friedman in November, 2013. Friedman, who designed the guidance system for the Sidewinder missile and the Lunar Rover, found a computer problem in the Impala could cause the air bags to fail in a crash.
The petition says a defect in the computer algorithm (code) can classify the occupant weight as being too low to deploy the air bag in a crash.
Based on federal data, CAS says there have been 143 fatalities in front-impact crashes where the air bags failed to deploy. Additionally, 98 fatalities occurred while the occupants were wearing seat belts.
In its letter to the government, CAS says it is "greatly concerned" that 120 days have passed since NHTSA received the petition, yet they have not granted or denied the petition. That's a violation of Section 124(d) of the National Traffic and Motor Vehicle Safety Act.
"The Center is deeply troubled that NHTSA once again may have missed an advanced airbag like it did with the Cobalt. The Center is even more troubled that once again NHTSA has kept whatever it is doing secret behind closed doors even though there is a specific legal requirement for NHTSA to make its activities public."
None of this is good news for an automaker that was financially bailed out by the government only to be under investigation by the government for ignoring a safety defect for 10 years in 2.5 million cars.
GM has recalled more than six million vehicles in the past three months, including 1.3 million cars with power steering problems, 662,000 vehicles for broken axles and possible fires, and 1,500,000 vehicles for air bag and brake problems.