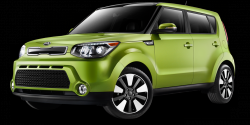 — Kia is recalling over 51,000 model year 2014 Kia Soul cars because the ability to steer the cars could go from good to none. Kia said a plug that secures the pinion gear to the steering gear can loosen and cause a complete loss of steering.
Kia discovered the defect in April and a subsequent internal investigation found a supplier improperly used a thread-locking adhesive during assembly. Kia apparently caught the problem early as only three warranty claims have been submitted, and there have been no reports of accidents or injuries.
Affected 2014 Kia Soul owners should receive recall notices this month. Kia dealers will replace the pinion plug with a new pinion plug which has thread-locking adhesive applied the way it should have been in the first place. Meaning, Kia will try to make sure the steering wheel lives up to its definition.
If you own a Kia Soul and have questions or comments, contact Kia customer service at 800-333-4542 and give them recall number SC108.