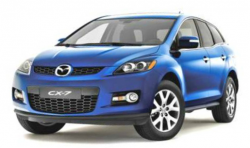 — Maxda has filed a motion to dismiss a Mazda CX-7 variable valve timing (VVT) lawsuit that alleges the automaker concealed a defect that caused VVT-related failures. Furthermore, the VVT lawsuit alleges Mazda refused to repair the cars even though they were under warranty.
The Mazda CX-7 VVT lawsuit was filed by James Stevenson, who bought a new 2008 CX-7 which provided warranty coverage for 36 months or 36,000 miles, whichever occurred first. The car also came with a powertrain warranty that provided warranty coverage for 60 months or 60,000 miles, whichever occurred first.
Stevenson alleges that although he received notice that Mazda had extended the warranty coverage for the VVT assembly, Mazda refused to fix the VVT assembly when the CX-7 broke down in November 2013.
In the VVT lawsuit, Stevenson claims he "regularly maintained the vehicle by performing his own oil maintenance," but Mazda says a lack of maintenance records means the warranty doesn't apply.
Mazda says the extended warranty notice is clear that "if the noise is caused by poor vehicle maintenance (insufficient oil changes or using engine oil of viscosity lower than 5W-30), this warranty extension does not apply." Without maintenance records, Mazda says there is no way to know if the car was properly maintained.
Further, Mazda says Stevenson doesn't provide any details in the lawsuit about the alleged VVT-related failure.
Stevenson claims he paid $3,384.87 for an unrelated turbocharger assembly repair and $960.02 for a rental car, however, Mazda says the plaintiff does not allege how much he paid to have the VVT in his vehicle repaired or whether he even had it repaired.
Mazda says the claims of consumer fraud, breach of implied warranty and concealment should all be dismissed because the plaintiff fails to allege facts to satisfy the pleading requirements to establish any of the claims.
The Mazda VVT lawsuit was filed in the U.S. District Court for the District of New Jersey - Stevenson v. Mazda Motor of America Inc.
Lead plaintiff James Stevenson is represented by Simmons Hanly Conroy LLC, Richardson Patrick Westbrook & Brickman LLC, and The West Law Firm.