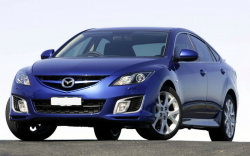 — Without using the word "recall," Mazda says it is announcing a "safety improvement campaign" to replace 330,000 driver's side airbag inflators manufactured by Takata.
Mazda says the 2004-2008 Mazda6 and RX-8 cars will be repaired nationwide, this coming about a week after Mazda recalled 40,000 cars for the same problems. However, that recall was an expanded regional recall in areas of high absolute humidity. The National Highway Traffic Safety Administration (NHTSA) has been pushing Mazda for a nationwide recall, which will now happen with the Mazda6 and RX-8 cars.
Mazda isn't saying a safety defect exists in the cars, but the automaker will use the "recall" to satisfy customers and gather the metal airbag inflators for examination.
The 330,000 cars are located in the U.S., and the good news is Mazda says it has tested a "large number" of Takata airbag inflators and they were fine. However, Mazda knows of a 2005 Mazda6 in Florida which had a driver's side airbag that didn't deploy properly. Mazda says it is working with NHTSA to confirm the facts of the case.
The automaker says it's agreed to team with other automakers to test Takata airbags and attempt to find the root cause of the exploding metal inflators. Additionally, Mazda is working with Takata to make sure all the replacement inflators are supplied in a timely matter.
Owners of the 2004-2008 Mazda6 and RX-8 should watch for mailed notification from Mazda, then do not ignore the notice. Takata airbags are killing people, so take the time to make a dealer appointment and get your car repaired.