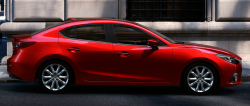 — Mazda is recalling 114,000 cars in two separate actions that affect the model year 2014 Mazda3, 2014-2015 Mazda6, and specific 2001-2004 Tribute vehicles.
2001-2004 Mazda Tribute (Control arm corrosion)
Mazda is recalling 109,000 model year 2001-2004 Tribute SUVs because corrosion at the forward attachment of the lower control arm can cause failure of the arm. A driver could lose control of the SUV if the lower control arm fractures.
As with many recalls of this type, the vehicles recalled were originally sold or currently registered in states where road salt is often used. The recall applies to the following states:
Connecticut, Delaware, Illinois, Indiana, Iowa, Maine, Maryland, Massachusetts, Michigan, Minnesota, Missouri, New Hampshire, New Jersey, New York, Ohio, Pennsylvania, Rhode Island, Vermont, West Virginia, Wisconsin and the District of Columbia.
Mazda says the repair part (reinforcement cross-brace) isn't currently available for the Tribute, but owners should expect a letter around May 19, 2014. A second letter will be mailed once parts are available.
However, any affected owner can bring their SUV to a Mazda dealer and have it inspected. If the dealer says the subframe isn't safe, Mazda will provide a rental vehicle until repair parts are available and installed.
2014 Mazda3 / 2014-2015 Mazda6 (Power control module)
Mazda is recalling about 5,700 cars equipped with 2.5L engines and regenerative engine braking systems. Recalled are the 2014 Mazda3 and 2014-2015 Mazda6, both with power control modules that can wrongly assume a failure of the charging system if the alternator belt slips.
Mazda says driving in heavy rain or water puddles can cause the belt to slip. The software in the control module will need updated to make sure the vehicle doesn't stop charging.
The power control module recall should begin in late April, 2014.
Owners can contact Mazda at 800-222-5500. Mazda's recall number for this recall is 7314D. The Mazda Tribute recall number is 7514D.