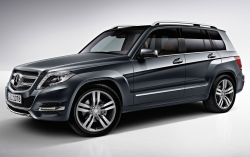 — Mercedes-Benz is recalling a small number of vehicles (376) but the two recalls involve a good number of models.
About 218 model year 2013 GLK350 and GLK350 4-Matic vehicles are recalled for parking lights that put out too much light. Mercedes blames the problem on a defect in the voltage of the parking light circuit. The automaker says the voltage is above recommendations and could cause a glare to oncoming cars.
Mercedes-Benz says the recalled GLK350 and GLK350 4-Matics were manufactured May 31, 2012, through August 2, 2012. Dealers will need to update the software calibration number of the electronic control unit. The recall is currently underway, so affected owners should watch for official notification from Mercedes-Benz.
The second recall involves only 158 Mercedes vehicles and comes after the federal government shot down an "inconsequential noncompliance" petition filed by Mercedes-Benz.
The automaker had requested an exemption to a federal safety rule about tire pressure monitoring systems, but the National Highway Traffic Safety Administration (NHTSA) said the cars had to be fixed.
The recalled vehicles include the 2011-2012 Mercedes-Benz S550, S550 CGI, S63, S600 Bi-Turbo, S65 AMG, S550 4-Matic, S550 CGI 4-Matic and S400 Hybrid vehicles.
NHTSA says a driver could cruise around without knowing the tires are not properly inflated. The tires have wheel sensors that read tire pressures and if the sensors are missing or experiencing a malfunction, the system won't provide a warning automatically on repeat ignition cycles.
The recall begins this month and will see Mercedes-Benz dealers reprogramming the tire pressure monitoring unit.
Owners of any vehicles named in these recalls can contact Mercedes-Benz at 800-367-6372.