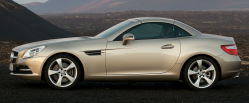 — Mercedes-Benz is recalling about 311 cars because the front passenger air bags could fail to deploy in a crash. The recalled cars are the model year 2014 Mercedes-Benz SLK 250, SLK 350, SLK 55 AMG, SL 550, SL 63 AMG, and SL 65 AMG cars. All were manufactured March 19, 2014, through May 5, 2014.
Mercedes-Benz says a problem occurred during the assembly of the air bags. Those air bags are manufactured by Takata, the same company that has caused the recall of millions of cars for exploding air bags. Mercedes-Benz says the air bag gas diffuser might not be secured and could fly into the passenger cabin when the air bag deploys.
Mercedes says that until the cars are repaired, the passenger seat should remain empty, no items or people allowed in the seat.
Owners should receive a recall letter this month (July) but Mercedes-Benz has no idea when the recall will begin because the parts aren't available. Owners will receive a second mailed notification once the parts and dealers are ready.
Affected owners of the recalled cars can contact Mercedes-Benz at 800-367-6372.