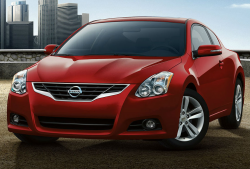 — Nissan is recalling over 220,000 model year 2013 Nissan Altima cars because the hoods can fly open while you're driving. Nissan says the secondary hood latch can get stuck in the unlatched position when the hood is closed.
The automaker blames the defect on debris and corrosion between the hood inner panel and the secondary latch lever. The hood can open at any time if the primary latch is accidently released and the secondary latch is not engaged.
The affected 2013 Nissan Altimas were manufactured March 6, 2012, to February 28, 2013.
Nissan doesn't currently know when the recall will begin, but the automaker says dealers will be told to change the angle of the hood lever to get rid of possible interference with the hood inner panel. Nissan dealers will also clean and lubricate the latch and replace the latch if it's corroded.
Owners of the 2013 Nissan Altima can contact the automaker at 800-647-7261.